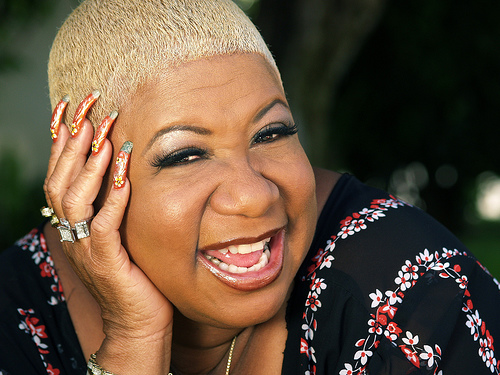 (CelebNMusic247) CNM247 Laughs Out Loud With Luenelle:
Hotel Transylvania

kicks off in the scary forest, a place that caters to monsters. Deep in the woods there is a secret hideaway where monsters go to vacation. The hotel is run by

Dracula

[

Adam Sandler

] who is celebrating his daughter's 118

th

birthday party.

Luenelle shines as the smart mouthed quick-witted Shrunken Head(s) that is on all the hotel doors. However,

Luenelle

's main Shrunken Head which is on the Mavis [Selena Gomez] door interacts with Dracula. She gives him a bad time and knows what he's up to all the time. Luenelle's character looks out for Mavis in the

Hotel Transylvania

.

The saucy Platinum blonde comedian knows how to make a scene work even when her character is only a head on the door.
Listen to Luenelle's interview with CNM247:
And make sure to stay connected to Luenelle. She is a wonderful lady and will have you in stitches. Besides starring in movies Luenelle stays busy with her comedy tour. She is currently touring right now.