RapHead Review -

Rick Ross

"God Forgives, I Don't" (Def Jam Album 5)
Contributing Writer: Shaun Evans
RapHead.com - I'm a fan of mob movies such as Scarface, Training Day, Good Fellas, The God Father, and even television shows like HBO's The Wire, The Shield or AMC's Breaking Bad. All of these movies are portrayed by cool villains whom we are able to relate with, root for, or sympathize with their pain. This villain portrayal is also evident in the hip hop world with artist like Tupac who wrote songs about Thug Life and tattooed the words on his torso, and who can forget about Chris "The Notorious B.I.G" Wallace who called himself "Frank White "a bad guy from the movie, King of New York. Then there's

Rick Ross

who calls himself a "Boss" like a Mob Boss leader.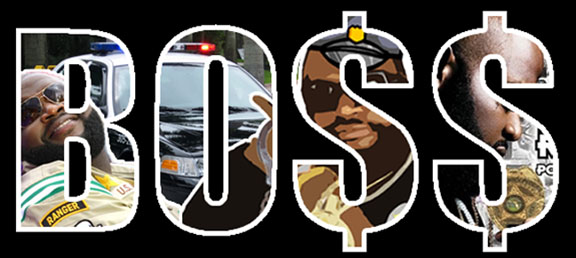 The "Boss" Rick is playing is an image created to sell records. Ricks rap rival 50 Cent released pictures and records of Rick as a correctional officer in Florida a few years ago. Therefore, he could not be the drug kingpin he claims he was. The "mask" of Thug Life is not actually a big deal when it comes to music. Jay Z clams to have had a thug start in life also but Jay Z doesn't rap about it on every song. The issue is when as an artist you can't grow beyond your own hype real or imagined. The album "God Forgives, I Don't" starts with "Pray for us" an intro where the actor ask the Lord for forgiveness for mistakes and for being lost. It sounds like the start of a movie. However, this is a movie you've seen before. "Pirates" is a song about how much wealth, how Rick is on top of his game and will pass Donald Trump in income. As an MC I expect even with boring subject matter the poetry and lyrical flow should make it interesting. "Pirates" sounds tired. Rick Ross is a talented rapper but this track is flat. It is ok at best seems like it could have been saved for another album or a soundtrack.

The music gets better with "3 Kings" produced by Jake One feat. Dr. Dre and Jay Z. Dr. Dre has the best part of the song with "number 1, for the last twenty years, if your real my brother scream cheers, I only love her with her hair long you should listen to this through my head phones."(Beats by Dre) Rick speaks on being at the Heat game and the money in his duffle bag. It's a shame being on the same track with Jay Z and Dr.Dre didn't inspire a better performance out of Rick. On Rick's previous album "Teflon Don" his hit with Jay Z "Free Mason" is exceptional. Some rappers after they reach platinum record sails may feel like they don't have to work as hard to stay on top. In some cases they don't Eminem for example regrets his "Relapse" album because he acknowledges it's not his best work however, it sold well because of his popularity. Kanye West states on "VH1 Story Tellers Live" "I got tired of some hip hop artiest 9th album sounding exactly like their first album. I'm a human being and human beings grow." Kanye is correct about growth. No one wants to hear the same album rehashed.

"Maybach Music 4 feat.

Ne-Yo

is a nice mix of hip hop beats with an R&B groove. This is a radio friendly hit where Rick Ross shines. "Touch'N You" feat Usher produced by Rico Love reminds me of early Biggie songs about trying to find the right girl. It's ironic when Rick drops his "Boss" image and raps about life he is a talented poet. It would be nice to hear Rick speak on his days as a prison guard. "Touch N You" reminds me of Ricks hit "Magnificent" feat. John Legend and "Aston Martin Music" feat Drake. When Rick teams up with R&B singers he produces some of his biggest hits thus far. Another great R&B celebration on this album is "Presidential" feat Elijah Blake. Rick raps "you know the crib on the water now, the maybach stay watered down, project brothers giving orders now, and you go presidential just to sport around." The background chant is "Get Money" like The Notorious Big group hit "Get Money" from the Junior M.A.F.I.A album. Rick Ross most likely would rather keep his "Boss, Scarface" persona rather than a rapper who's known for rapping alongside R&B crooners.

On "Diced Pineapples" feat. Wale & Drake Rick compares the perfect woman for him with diamonds. Drake does a great job singing background. Wale shins with the way he relates to the mind of a woman he wants to date. This is one of the better songs on the project. The last two songs on "God Forgives, I don't Deluxe Edition are "Triple Beam Dreams" feat. Nas and "Rich Forever" feat John Legend. The last two on the deluxe version are some of the best song on this album. However, both of these songs were on the mixtape album "Rich Forever" which was released last year on line for free. A mixtape CD is a promotional collection of songs used to introduce a new artist like Drake without the input or backing of a record label.

Mixtapes are also used to introduce new music from an established artiest like

Rick Ross

or 50cent. The Rich Forever MixTape was far better written and produced than "God Forgives I Don't." God Forgives has sold well and will continue to because of Rick's popularity and many good guest appearances. There is nothing wrong with one or two guests on your album, but there are so many guests on this project it could have been titled "Rick Ross and Friends." The guest on this album reads like the BET Awards after party with Jay Z, Dr. Dre, Wale, Usher, Meek Mill, Andre 3000, Drake,

Ne-Yo

, Nas and John Legend. However, it's far from

Rick Ross

best effort or talent this was a lazy album built around its guests. God does forgive us all for our sins. I can forgive Rick for a halfhearted effort. This album is not as nearly as polished or entertaining as his previous albums. There are 15 songs on "God Forgives the Deluxe Edition has 17 on ITunes.

Hot Tracks: Rich Forever, 3 kings, Touch N You feat Usher and Maybach Music 4 feat Ne-Yo
Review Written by: Shaun Evans
Grade: 3 out of 5 RapHeads