When life hands you lemons squirt the pure and raw lemon in life's eyes.
Being the comic book buff that I am, you'd think I would have seen The Batman film by now and with disgrace I must admit that i haven't and that is almost a sin among us comic book geeks and nerds. So for just 30cents from all of you, you can help send this DriFish to a movie theater near him to watch The Dark Knight Rises so he can be inspired to be a better hero or villain depending on what day it is.
Its August and the summer is almost exhausted. Soon we'll be complaining about how cold it is outside while missing the summer's heat we complained about through out the summer. I'm still on my traveling gypsy circus mad max show kick while channelling Freddie Mercury, Ole Dirty Bastard and Fela Kuti through my perfomance everywhere we go, and this week we have two shows for ya and more coming in the soon to come weeks.
Tuesday August 21st at Edens Lounge
Femi The DriFish & The Out Of Water eXperience features at Organic Soul Tuesday
Then the big slam this week will be in Washington DC this thursday:
THE WONDERLAND EROTIC ROCK 'N ROLL CIRCUS - A MAGICAL MUSICAL MISADVENTURE/ UNBIRTHDAY CELEBRATION (longest title ever)
1212 H Street, N.E. Washington DC
Show starts at 9pm and will be over no later than 11:30pm
Pertula Ceasar as "the Queen of Hearts/The unBirthday Girl"
Bunny Vish'us (as the Mad Hattress/ The Blue Caterpillar)
Bella La Blanc (as The White Rabbit)
Special Guest Mab Just Mab!
And Femi The DriFish & The Out Of Water eXperience to close the night.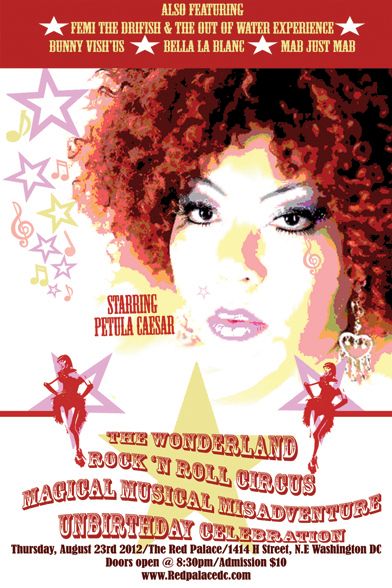 "Femi has built a continual collaboration with other artists who love this sort of boundary-pushing play. The Out of Water eXperience is certainly included amongst them..." — Dharna Noor, What Weekly
"He is of a rare breed of musician who can put on a consistently high quality show whether on an arena stage or in a dive bar in the middle of nowhere." — Luis Mejia, LUCHOXXXART
"If OLD DIRTY BASTARD, FREDDY MERCURY & FELA KUTI all had an orgy with the chick from THE RING, the left over pool of spluge would take on life as a liquid-form symbiotic creature like CARNAGE (Spider-man) that would give birth to who we now know as FEMI THE DRI FISH!" — Luis Mejia, LUCHOXXXART