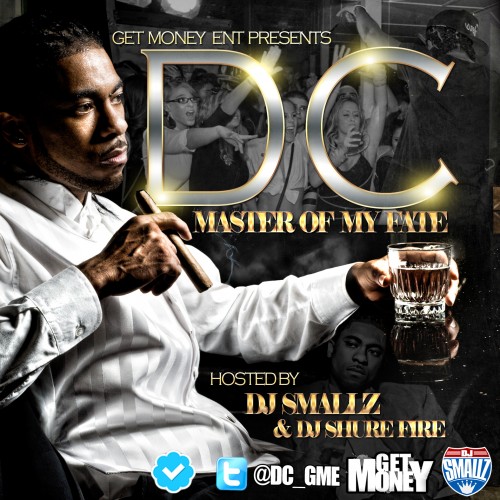 There a lot of independent artists on the rise in the industry like the game used to be. The game has returned 360 degrees to its former glory with young talented rappers creating something from nothing with only the will, the heart and the talent to become a M.C., Hip Hop still lives.
My PurplePick comes out of Little Rock, Arkansas this time and the movement of DC and the Get Money Entertainment regime is coming out hard with a strong fanbase support and a family bonded together to make this CEO/artist, a household name, worldwide.
Hip hop lyricist DC sets himself apart from other rappers as a 'new
original' with his smooth style, fluid structures and smart lyrics. DC
draws proven hip hop crowds while breaking through to new audiences
including women, tweens and adults.

DC's passion to put Arkansas on the map in the hip-hop industry was
inflamed by the sudden and tragic death of his cousin and lifelong
rapping partner, Cyle Boykin (Yung Squady). The painful loss of the
young man DC viewed as his very own brother drove DC's career
commitment into high gear spawning tracks like "THA MOVEMENT,"
"RELO," and "I'M A HUSTLA." Drawing over 100,000 views on
WorldStarHipHop.com for his risky video for "Sex Music" in
collaboration with Tank. DC has also toured with Travis Porter. His
most recent release "Master Of My Fate" has done exceptional on
various music downloading sites like DatPiff.com & LiveMixtape.com.

DC has taken up the motto "I Am My Brother's Keeper" because he plans
on taking care of Cyle's son along with extended family.



Life hasn't been easy for DC, with a Dad who left him at age seven,
stole his mom's money and hung around only often enough to disappoint.
Still 'it's all good' for DC who suggests, "when you grow up and all
your friends are dead or in jail, maybe the only rebellion left is
success." DC never shook his mother's favorite rap, "know the streets
and the books." Today, DC slips between cultures working his way
through college (with a 3.8 GPA) while simultaneously drawing a
growing number of followers.



DC forms lyrics both poetic and gritty in a world that's more than a
little bit busted up. His wit and versatility mean DC can kick it in
the hood or speak truth to power at the Whitehouse. But his struggle
is universal, to afford to stay in college, care for his family and
live large his dreams.

A phenomena just waiting to burst out on the international market, a
mind haunted 24/7 by music, DC is ripe for filling venues to capacity
- poised and ready to catapult to the next level.
"
I don't want to let the streets over take me. Hustling isn't the way
t
o support a family or my education! Fighting to keep the streets from
over taking me…it seems like music caught me in a major way! I find
musical and lyrical inspiration in everything I do nowadays. I eat,
sleep and breathe hip hop
" DC